This post was last updated
11 years 5 months 3 days
ago, some of the information contained here may no longer be actual and any referenced software versions may have been updated!
My BuyXGetYFree Magento extension has been updated with the ability to use any Magento coupon code to qualify for a free gift.
Simply configure a coupon as usual in Magento, set the coupon name i.e. "MYCOUPON1" but do not configure any coupon discount information. Then configure the name of the coupon in the Coupon section of the extension, and the ID of the free product, product Y. You should create a new or duplicate an existing product to create a unique product ID for your free gift.
When the customer enters the coupon code, the free product is added to the cart.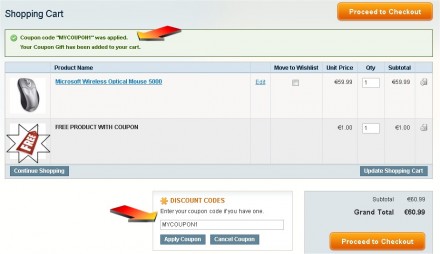 See the full extension page post for more information and to download. Thanks to Darren for the idea!