This post was last updated
10 years 6 months
ago, some of the information contained here may no longer be actual and any referenced software versions may have been updated!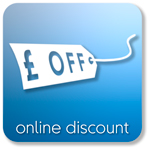 The Facebook "Like" is an important Social Media Marketing tool. It instills customer confidence and enables new marketing opportunities. Increasing the number of likes your e-Commerce site has can sometimes be difficult but one way to really boost those likes is to offer a reward in the form of a discount code if customers like your Facebook page.
I wanted to accomplish this with a standalone PHP application embedded into a Facebook page tab. The goals were to step the customer through connecting with the Facebook application, liking the page and generating / managing the discount codes and Magento coupons.
We want to take full advantage of the marketing information we can glean from Facebook so another requirement was so store the customers Facebook profile information in a database along with the generated discount code.
We can also generate a wall post on the customers Facebook wall to ensure our offer is shared with their Facebook friends.
The application uses the Facebook API to communicate with Facebook and loads Magento externally to generate the Magento coupon sales rules dynamically.
Here are the main features of the application:
1. Connect the customer to the Facebook application and save the customers Facebook profile information  to a MySQL database.
2. Get the customer to click the Like button for this Facebook page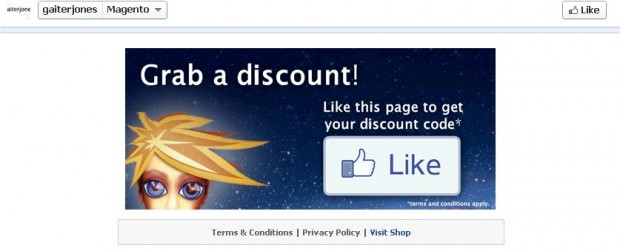 3. Generate discount code and Magento coupon.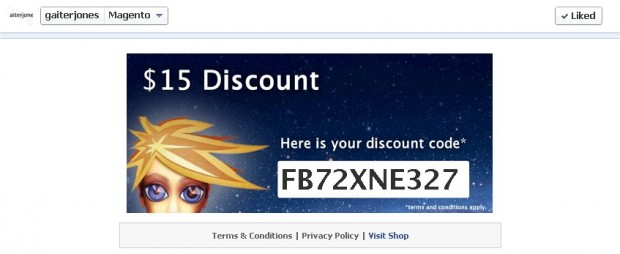 and post to the customers Facebook wall (optional).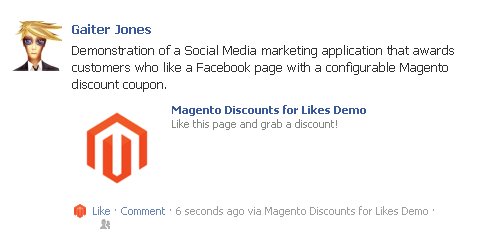 4. Manage subsequent attempts to generate codes by the same Facebook user. Of course customers can create multiple Facebook accounts to obtain codes so your discount amount has to be thought out properly and relevant terms and conditions applied to try and prevent abuse. How much are Facebook likes worth to you?  A good idea would be to make the discounts valid for a certain spend amount, $15 discount when you spend over $100 for example. Remember if you already have 1,000 likes on your Facebook page, you are potentially giving away 1,000 discount codes to existing customers as this application does not distinguish between new and old likes!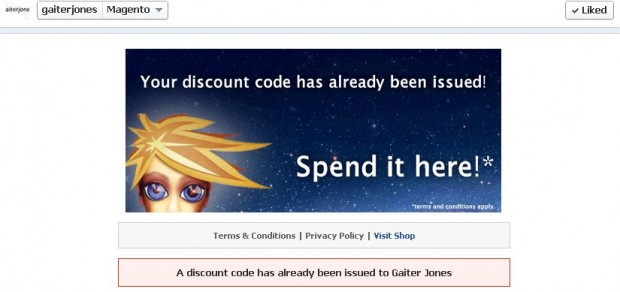 The customer can now copy and paste the code directly into the Magento frontend store coupon box.

Test the application here.
Download the application source code here check out the readme file for installation instructions. The main installation requirements are
PHP5.x/MYSQL
Public webspace on the same server as your Magento installation
A valid configured Facebook Tab application.
Magento 1.3+
Edit the config.php file with your configuration settings and create the database and database table using the SQL in the readme file.
This could be developed as a Magento module too, the advantages I can see for a module would be to allow the whole process to run within your Magento shop instead of a Facebook page tab.